Warhammer 40K: Chaos Gate – Daemonhunters Class Guide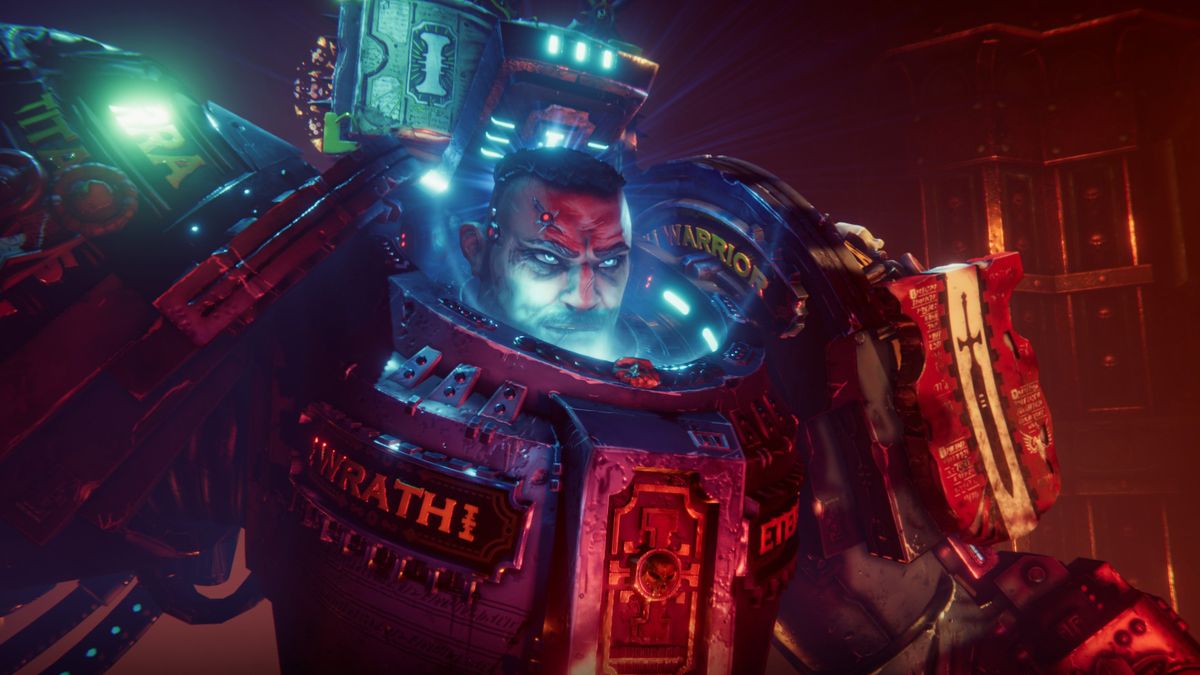 Fighting a galactic plague isn't easy, it turns out. You need a fast starship that can fend off attackers, handle a tough crew's ego, and approach every battle with at least a dash of tactical understanding. I covered the generalities in our Daemonhunters beginners guide, and how to fight Nurgle's futuristic minions is one of the best 40K experiences in recent memory, but now is the time to dive a little deeper.
There are eight Chaos Gate classes – Daemonhunters: four starters and four specialized variants of each. Here's what you need to know about them.
Starters
These are the base classes you'll have until about halfway through the campaign. Just because they're less specialized doesn't mean they're "weaker" than the advanced classes, so don't give them up as soon as the shiny new toys come later.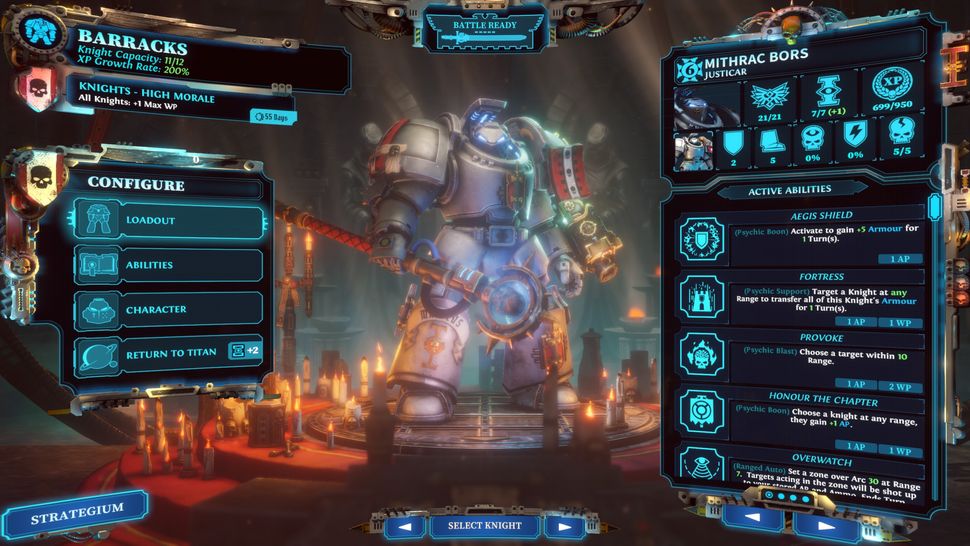 vigilante
Daemonhunters' armored tanks – just as capable of leading your front lines as they are of staying behind and psychically sending armor and AP to other units. Thanks to their ability to wear Terminator armor, Justicars can carry both a melee weapon and a two-handed psycannon into battle (impossible for knights wearing lighter power armor).
Key Capabilities
Fortress
Transfers all Justicar armor to a knight anywhere on the battlefield for one turn. Combined with Aegis Shield upgrades that increase the Justicar's armor, this allows you to temporarily turn any knight on the battlefield into an absorbing tank.
To provoke
Taunt enemies to only attack the Justicar for one turn. Upgraded, it becomes an AoE ability, allowing you to pull in multiple enemies at once, and its Distortion Charge drives enemies mad, causing them to attack randomly.
crushing load
Charge 10 tiles to inflict 1 DMG, +1 Stun and Knockback to all enemies in your path. This doesn't deal much damage, but can be upgraded to inflict an additional stack of stuns and hindered effects.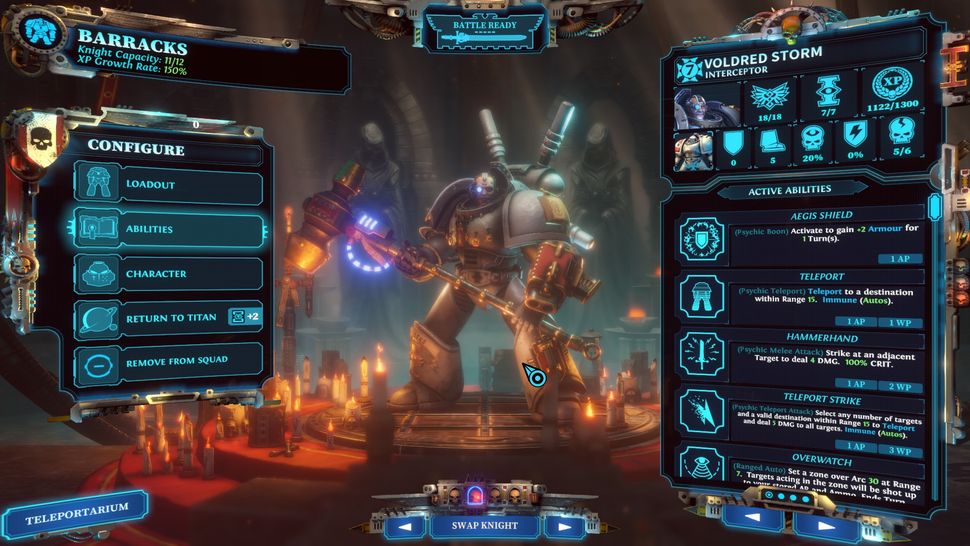 Interceptor
The sneaky rogues of the Gray Knights, Interceptors thrive on their mobility and ability to teleport across the battlefield. They dart between enemies quickly and deal high melee damage (since they can't be parried).
Key Capabilities
Teleport Strike
Mark multiple enemies in a 10 range area, then teleport between them to land a powerful strike on each.
Swap allies
Switch places with any knight within teleport range. This range can be extended from 10 to 15 with the range upgrade in the teleport discipline.
Teleport Boost
Gives you an additional 50% chance to recover your AP after using a teleport-based ability. The likelihood increases with a higher focus on your interceptor, so with the right loadout, you could end up with a 100% chance of replenishing your AP after a teleport move or attack.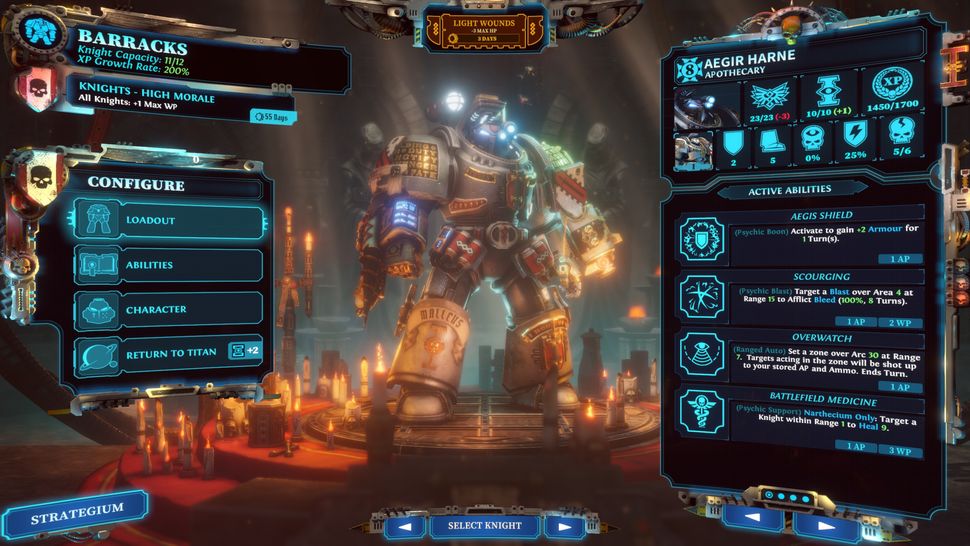 Apothecary
At a glance, these guys are classic healers, but you can also turn them into damage-over-time dealers with their bleed-inducing abilities. They can also learn to use the sturdier Terminator armor, which is handy if you want them on the front lines healing your knights while skewering enemies.
Key Capabilities
Battlefield Medicine
Heal a single adjacent knight. Upgrade this ability as quickly as possible to maximize the amount of healing you do. The basis of a good healer build.
Flogging
Fully upgraded, this AoE psychic attack inflicts Bleed (2 DMG/turn for two turns) on enemies in a substantial area up to 15 ranges. Supplement it with the Grim Surgeon ability, which extends the duration of all bleed effects by three turns. Very handy for adjusting damage over time on heavily armored enemies and bosses.
Apothecary Skull
Unlock a skull that goes into a Wargear slot and allows you to grant Biomancies to your allies at any distance, instead of having to be right next to them. Biomancies are distinct apothecary abilities, each with their own skill tree, which grant temporary buffs to your fellow knights.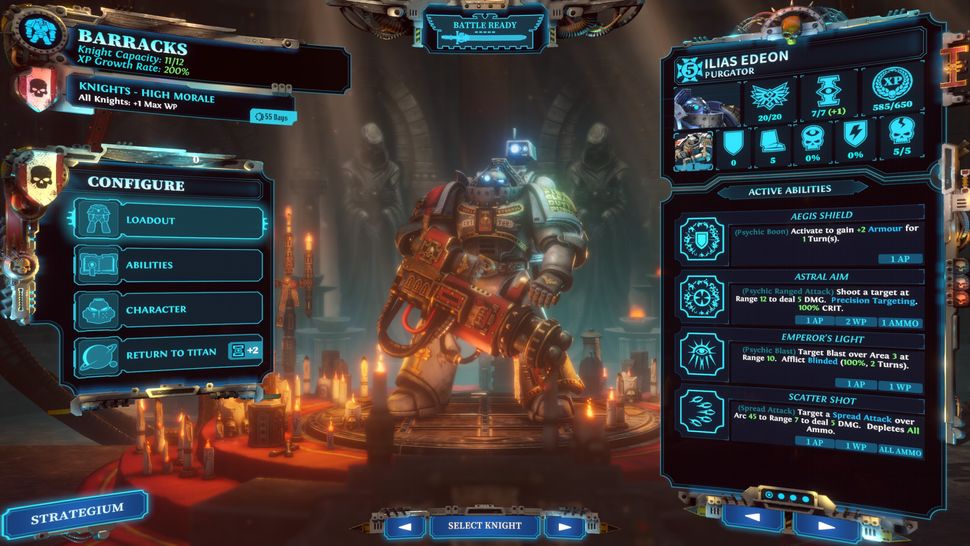 purger
Foregoing future warp magical abilities in favor of heavy weaponry, the Purgators have access to the finest gear in the Gray Knights arsenal, including Psycannons, Psilencers, and Incinerators. Of these weapons, incinerators (flamethrowers, basically) struggle a bit as it can be difficult to close that distance and then try to burn groups of enemies without frying your comrades in arms.
Key Capabilities
Emperor's Light
An AoE psychic blast that blinds enemies for two turns. Along with the Warp Charge upgrade, this also ensures that you will purge all affected enemies of their mutations.
Equipment slot
The Purgator is a feature class rather than a shard, and an additional Wargear slot stacks well with upgrades to your grenade capacity, allowing this type to carry up to six into battle.
Psilencer Discipline
Everything in the Psilencer discipline is worth grabbing if you want your Purgator to be a sneaky sniper build. You can upgrade the Psilencer with a vast range, and supporting fire means that when an enemy gets shot within that range, the Purgator will automatically shoot that enemy as well. Top off your Psilencer build with Ignore Cover, which ignores damage penalties for partially covered enemies.
Advanced
These classes start showing up later in your campaign and are extremely specialized, which can really spice things up when you thought you were getting into a groove with the base classes.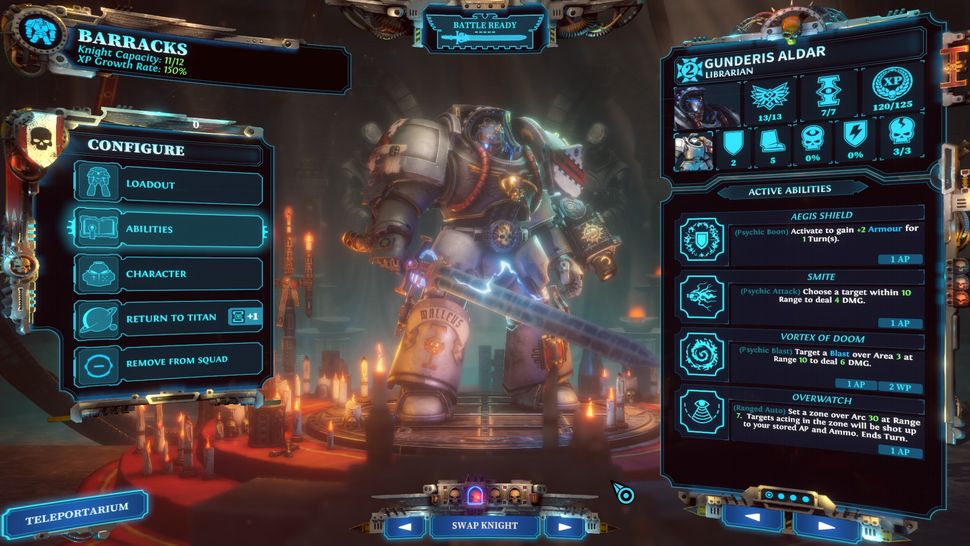 Librarian
The only ones capable of wearing Terminator armor, Librarians are well versed in the ways of the Warp, specializing in psychic abilities. You'll want to strengthen their will because all of their best abilities are Warp-based.
Key Capabilities
Fate Vortex
A psychic blast that, when enhanced, can deal up to eight damage per enemy and disable ranged attacks from mechanical enemies for two turns. Essentially an extremely powerful psychic grenade.
infinity gate
Teleport your entire team to any visible location on the map. This ability also exists as a Stratagem that you can get early in the game, but the Librarian has it in his tool belt. Extremely handy when you're waiting for an extraction or want to blitz a Bloomspawn or boss.
Fortress
Like the Justicar, the Librarian can send their armor to any unit on the battlefield for one turn. Crucial for front line support.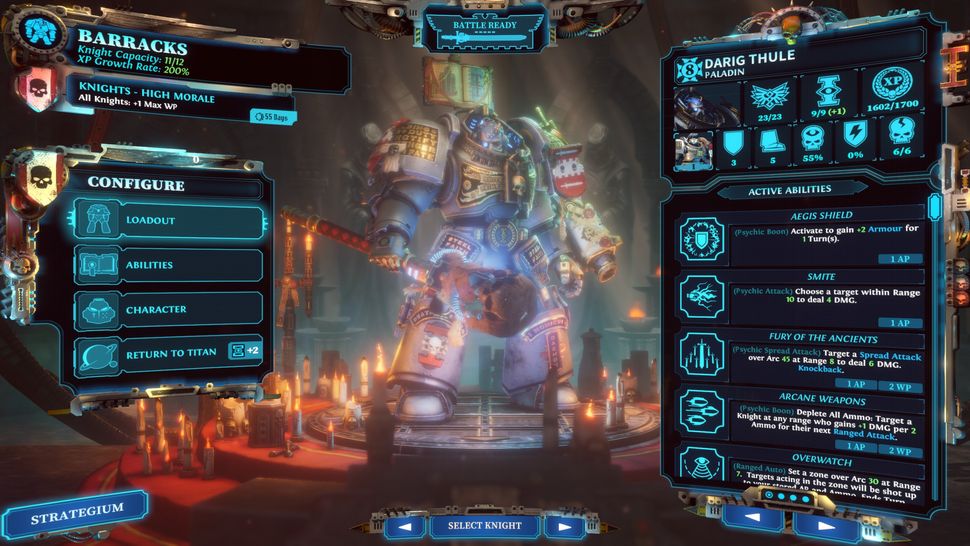 Paladin
Even more tanky than Justicars, Paladins are excellent in melee as they can provide defensive buffs to an area around them and knock the enemy back. They are the only knights capable of using a Storm Shield, making them extremely proficient at holding their own.
Key Capabilities
Defend the position
If you have a Storm Shield equipped, this support ability creates up to an area 5 (with upgrades) in which enemies are automatically attacked while allies +4 or – with the Warp Charge upgrade – +7 bonus to armor. Add Only in Death to automatically revive a critically injured ally once per battle in the defensive zone.
Fury of the Ancients
Damage and knock back all enemies in a 45 degree arc up to 8 ranges when upgraded. Along with Warp Charge, this can deal up to 12 damage to all affected enemies, making it one of the strongest abilities in the game.
Will of the Emperor
Send 2 WP to a knight anywhere on the battlefield. With the Warp Charge upgrade, you can transfer all of Paladin's Willpower to an ally.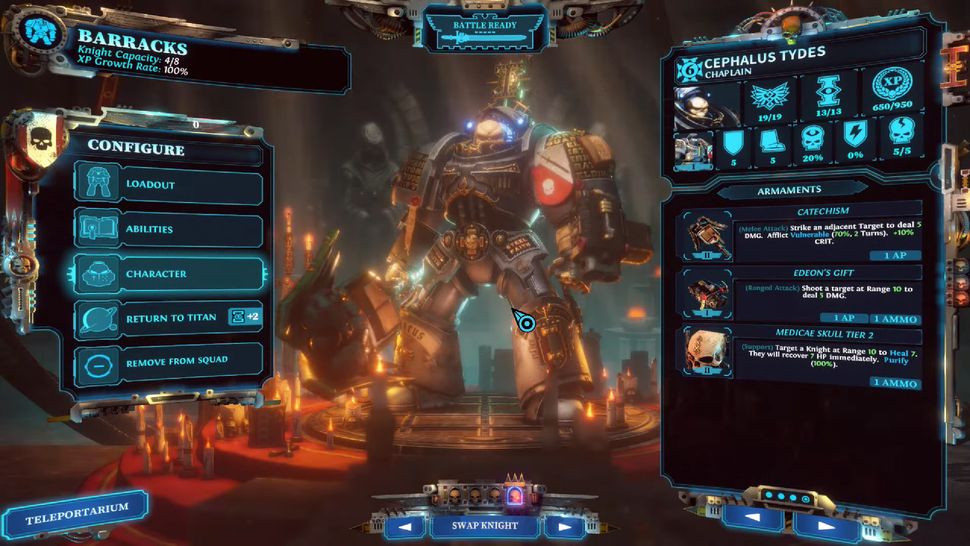 Chaplain
These guys may look like healers, but are actually the strongest pure support class in the game, able to use litanies to buff knights at any range with increases to willpower, critical damage, and doom. armor, among others. However, you can only have one litany active at a time.
The Chaplain can be a pretty solid tank, even if he lacks high damage, so he will rely on those around him to deliver Imperial justice.
Key Capabilities
Litany of hate
This litany grants all knights 1 extra AP when one of them executes an enemy (in addition to the 1 AP they all already get for that execution). Upgrade this ability to use it more than once per turn. An absolute game changer in the right hands.
Summon Focus
Grants each Knight a 15% (up to 50% when upgraded) chance to regain 1WP when using Warp Charge, Psybolt, or Force Strike modifiers. Since these abilities are some of the most used in the game, you'll potentially recover a lot of willpower.
Intonation for orientation
All knights have +35% critical strike chance (up to 55% when upgraded) with ranged weapons. This results in a massive damage boost across the board, especially with high-tier weapons upgraded with existing crit bonuses.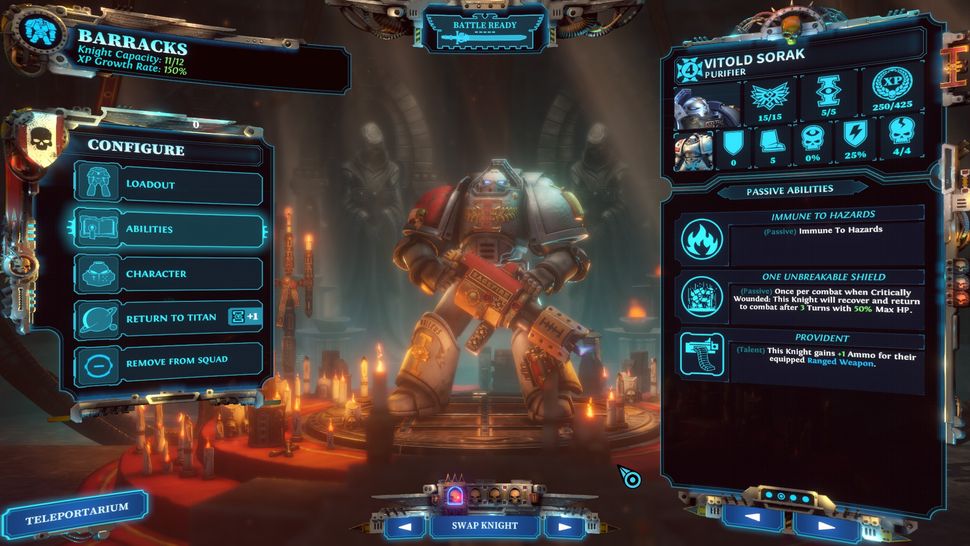 Purifier
A pretty much straight upgrade from the Purgator, the Purifier focuses on Incineration. They can use the Psycannon, Psilencer, and Incinerator, though their more powerful ranged abilities focus on the latter. As mentioned earlier, the Incinerator can do a lot of damage but is limited by its short range and vagueness, so head in with your Purifier and burn enemies before other Knights enter the fray.
Key Capabilities
flames of purity
The default attack of a Purifier wielding an Incinerator, adding +1 DMG (or more, when upgrading) to your weapon damage and +1 additional DMG for every 2 ammo (or 1 ammo, when upgrading) upgrade) spent. You'll want to get every possible upgrade in the Flames of Purity discipline to maximize its damage, as well as bonuses like the ability to blind and knock down enemies.
Equipment Discipline
Acquire all of the upgrades in this skill tree to turn your Purifier into a relentless Grenadier, with higher blast zones, ammo capacities, and damage than other grenade-wielding knights.
Unstoppable Conflagration
A rather complex ability that increases your damage by +1 each time you use a psychic ability, up to a maximum of +3. As this only lasts one turn, send extra AP to your Purifier (via the Librarian's Litany of Hate or the Justiciar Chapter's Honor) to make the most of this turn.