Third place in time trial at World Championships looks like victory for Evenepoel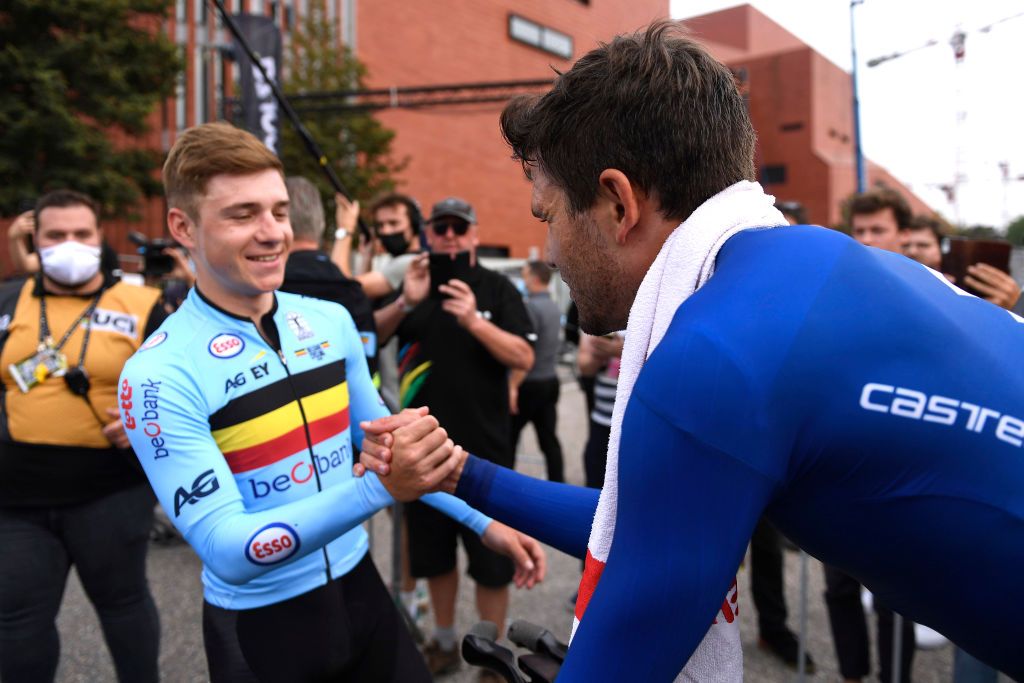 Feelings were quite different between Belgian riders Wout van Aert and Remco Evenepoel after the individual time trial at the elite men's world championships on Sunday. Both Belgian riders made it to the podium, but Van Aert was disappointed with "one too many silver medals", while Evenepoel, 21, was content to take bronze and finish better than the others.
Evenepoel was not in contention for the win as winner Filippo Ganna (Italy) and Van Aert raced in another league on Sunday. He edged his teammate Deceuninck-QuickStep Kasper Asgreen (Denmark) by just two seconds.
"I was in the hot seat for a long time and was comfortable for the first half hour. Then I wasn't really sure about third place as Wout was in a close battle for victory. It was scary. I lost a few years there. Those two seconds were just enough, "Evenepoel said with a laugh.
"Wout and I wanted to be on the podium together but not in that order. I can be happy with what I did today. I wanted to do a perfect time trial. I knew after the first intermediate point that Wout and Filippo were out of reach. I was afraid of losing third place but I knew I was going to increase the speed after the first intermediate point. I have nothing to be sad about. I finished third so I can be happy with that. It looks like a victory.
During the post-race press conference on the Bruges concert hall stage, it became evident that Evenepoel felt back to where he was before his knee injury suffered at Il Lombardia in August 2020.
"I think with my performances over the last few weeks I'm really pushing my best values ​​or even better. Today, I could really push through. If I had tried to finish faster, I would have exploded. I'm happy with everything I'm doing now. If you are third behind the two best time trials, then you have to be happy. It was a completely flat course. I couldn't have done better on this course, "said Evenepoel.
"We knew it would be very difficult to beat Ganna. We've been second or third at the championships for a few years now. It looks like we are not allowed to win. Hopefully we will find a more difficult course in the next few years and not finish second or third there, "said Evenepoel, who finished third last week at the European Championships in Trento, Italy.
"I learned from the European Championships that the pace is very important. I started too quickly there and it cost me the title. We established a stimulus program and I carried it out very carefully. On this course, it was the best possible result for me, "said Evenepoel.
"There were some really long single sections where you could maintain the same pressure on the pedals. I gradually increased the pace from the first intermediate point, then a notch towards the second intermediate point and full throttle until the finish. I think that should be clear from the split times. "
At the first intermediate point, Evenepoel was 11 seconds ahead of Stefan Küng (Switzerland), recent winner of the European title, and seven seconds over Asgreen (Denmark). In the second section, the Belgian rider rode 14 seconds faster than Asgreen and 25 seconds faster than Küng and climbed to provisional third place.
In the last section of Damme in Bruges, his Danish rival took four seconds off him, which was just enough to keep third place. Halfway through the time trial, Evenepoel lost his bottle to Dudzele and entered it, almost ruining his race. He didn't know what had happened because moments later he grabbed the bottle and noticed that it was gone.
"I felt like I had hit a rock and I was afraid of slipping. I knew why it collapsed because when I put the bottle back in place without allowing air to enter, "Evenepoel said. The incident was ultimately not crucial.
Later Sunday, Evenepoel appeared on the sports television show on Sporza. "Finishing second and third instead of first, and third is the only negative point today. We are professionals and will know how to give it a place. Next Sunday, an important meeting is approaching. In the road race to the Championships of "Europe, I could do more and that will continue to come through my head in the winter, but then I had to change buttons and focus on this race. We will do the same after today.
"Tomorrow there is a new day and we are focusing on Sunday. There are still a few training outings and a good reconnaissance of the course. Then it is about spending Friday and Saturday as fresh as possible because Sunday we will be running for un It will be the longest race of my career if I get to the finish line, "smiles Evenepoel, thinking of the 268 kilometers ahead.
He will be Wout van Aert's lieutenant between Antwerp and Louvain. "There is no discussion about the leader of the team.
"If you see in how many situations he can win a race, in a small group or even a large group. It will be a question of delivering it safely to Leuven with a compact group in order to avoid nervous movements. be our task to counter every movement. Hopefully we can deliver him 200 meters from the finish line, "Evenepoel said.