SBN Special Edition: How to Manage Your Paycheck Protection Program Loan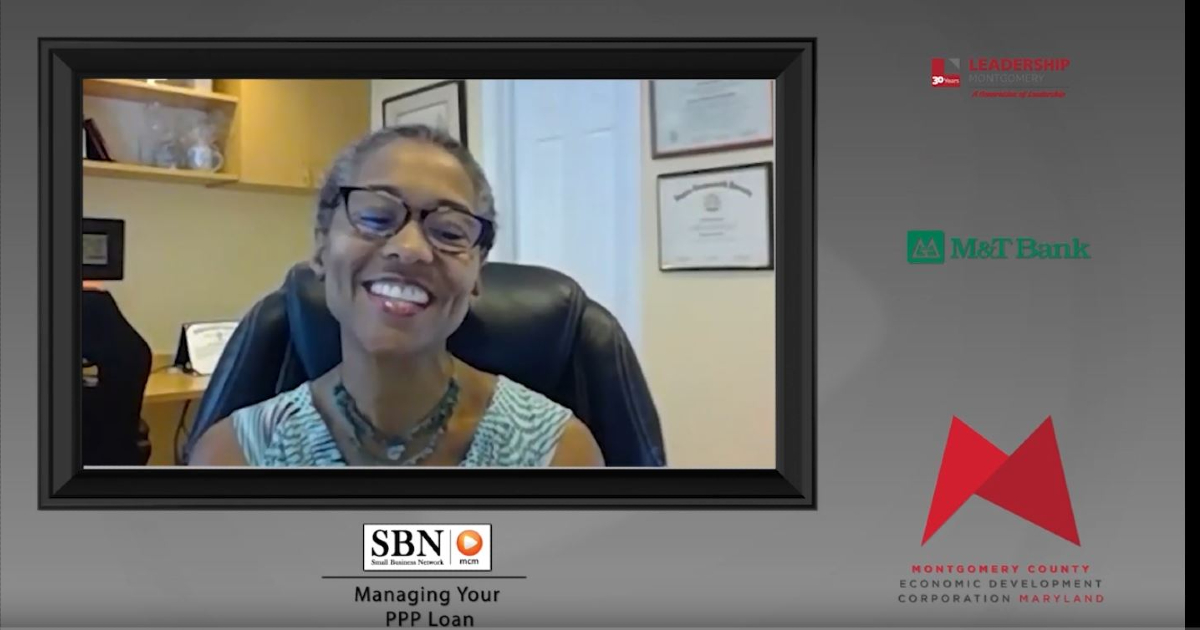 Host Kelly Leonard is joined online by business leaders to discuss managing your Paycheck Protection Program (PPP) loan in this special home-based edition of the Small Business Network.
The monthly morning session series covers topics of interest to small business owners in Montgomery County.
Watch a video of their recorded chat via Zoom here:
Barbara Murphy Cromer, CPA
Snyder Cohn, PC
Barbara Kromer provides auditing, accounting, tax and advisory services to clients in a variety of industries including real estate and construction, public procurement and professional services. She works extensively in the tax areas of flow-through and multi-state entities, and is the primary responsible for all audits of the firm's employee benefit plans.
Jarred Ricks, Vice President
M&T Bank
Jarred Ricks is the Business Banking Team Leader for M&T Business Banking Group in Montgomery County, Maryland. Its team of relationship managers are responsible for supporting all of M&T's small business clients (up to $ 30 million in revenue) in Montgomery County. Jarred has spent his entire banking career in commercial banking since joining in 2013. Jarred holds a BA from Lafayette College and an MBA from the Smith School of Business at the University of Maryland. He lives in Washington, DC.
Andrew L. Schwartz
Director, Stein Sperling
Andrew Schwatz builds trusting and communicative relationships with his clients, which helps him better understand their particular situation in order to achieve desired goals. Schwarts prides itself on being proactive, responsive and dedicated to every customer. He focuses his practice on business transactions, labor law, real estate and growth, management, operation and successful business succession.
With his knowledge and extensive experience in business, real estate and labor law, Schwartz fully understands the concerns and issues that his clients bring to him. He gets deeply involved in his clients' business and works hard to understand what makes them tick. Schwartz's practice encompasses all kinds of transactions related to mergers, acquisitions, corporate reorganizations and employment contracts. A particular passion is helping and advising clients on business start-ups and the growth of their businesses.
Schwartz acts as an external general counsel for a range of companies in various industries.
His corporate representation includes drafting and reviewing contracts and structuring corporate governance, in the sliding drafting of limited liability company, partnership, corporate and joint venture agreements. He is frequently invited to speak with business owners on topics such as choice of business entity, commercial shipping controversies and disputes, and the practical and legal aspects of business succession planning. and employment issues.
The Small Business Networking series typically takes place at Montgomery Community Media (MCM) studios in Rockville.
About Montgomery Community Media's Small Business Network Series
The monthly morning session series covers topics of interest to small business owners in Montgomery County.
Additionally, the series provides the opportunity to reinvigorate and innovate businesses with insight and insight from regional business leaders' presentations and question-and-answer sessions. Indeed, seminars and networking can enhance the success of local businesses in Montgomery County.
Montgomery Community Media is located at 7548 Standish Place in Rockville, within walking distance of the Shady Grove subway station. A free parking is available.
You can see previous speakers and events, here.
SBN is brought to you by