Russian troops clash with protesters and fire weapons at Chaplynka in Ukraine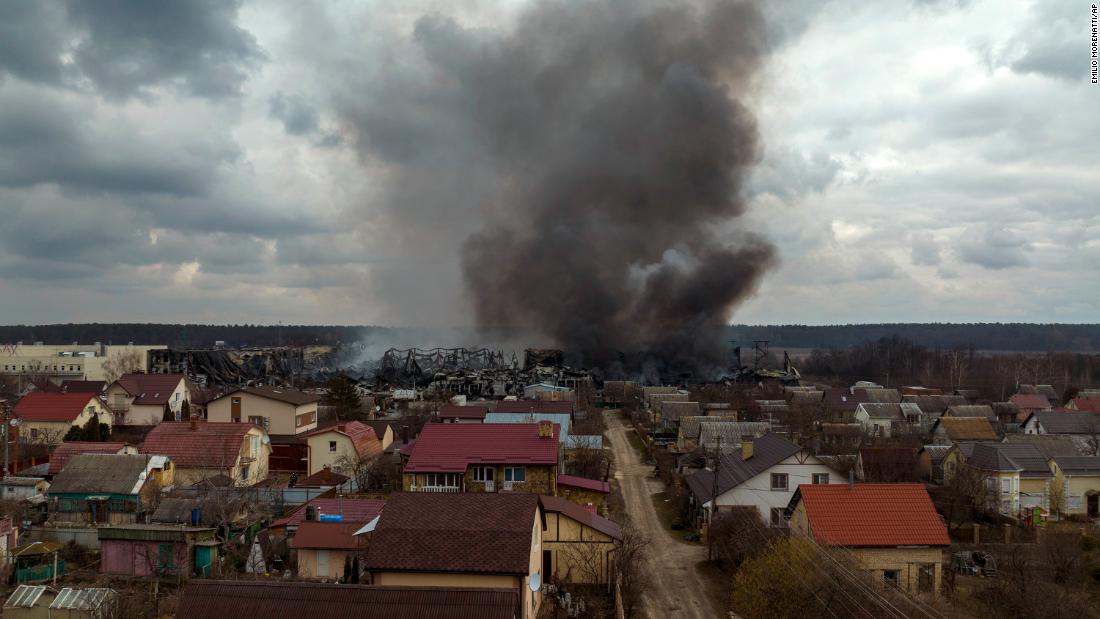 The mayor of the southern Ukrainian city of Mykolaiv said on Monday that Russian forces were withdrawing after what he described as an attempted attack on the city's airport.
Mykolaiv Mayor Oleksandr Senkevych told CNN's Christiane Amanpour that the Russian army tried "to attack the airport, and our troops fought with them and they retreated to the border…on 20-25km".
Earlier Monday, in a video posted on Telegram, Mykolaiv region's regional administrator Vitali Kim also claimed that the Russians were retreating after losing two tanks in a 'tank battle' at the airport. .
Intense fighting has broken out in Mykolaiv and video authenticated by CNN shows explosions of military strikes and large plumes of smoke around the Ukrainian town located about 250 miles south of Kiev.
Senkevych said the town faced a "rocket attack…about 60 rockets fell on our town, and 61 buildings were…destroyed, and about 40 rockets fell without exploding. So from the morning we also had an attack by heavy weapons like tanks and heavy weapons machines around the city.
The mayor went on to say that Russian forces relied heavily on cluster bombs, which are banned under the Geneva Convention. "90% of the rockets sent into our city, which were launched into our city, were cluster bombs," he said.
"They are illegal, but we have lots of photos and evidence that they are using illegal weapons now, in the 21st century."
Despite the onslaught, Senkevych said Ukrainian forces are "motivated, they want to defend our homeland, our city, and they are really motivated and want to fight to the death." He said the town had "a good amount of people and heavy machinery".
"We are ready to defend our city, and we always have a corridor to get support, food, etc. from the Odessa region. This is the only way we have left and we are receiving help from our various partners, sister cities and towns in western Ukraine. We need helmets and vests for our home defense troops right now and we are collecting food for long-term storage," the mayor said.
He told Amanpour that the Russian soldiers were lying when captured by Ukrainian forces. "Every time we catch them alive, they say they didn't know where they were going, they were training, they crossed the border, then they found out in Mykolaiv that they were far from Russia. But this is a lie. Because from Mykolaiv to Crimea there are about 500 km.
"They should know where they are, they are gathering near Kherson, and they have spread to our city and they are trying to attack our city," he said.