Radio 4 orders the shows of Jen Brister, Josie Long and Kiri Pritchard-McLean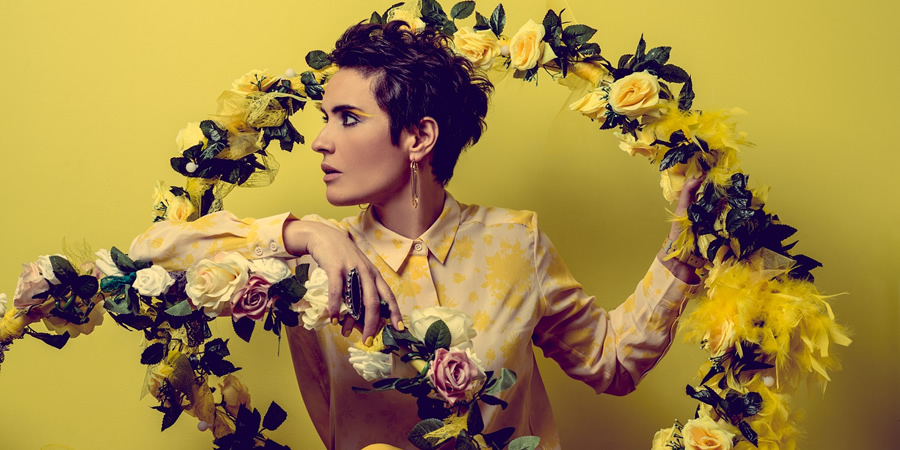 Jen Brister. Copyright : Idil Sukan
Radio 4 has ordered new comedies from Jen Brister, Josie Long and Kiri Pritchard-McLean, as well as a series of train interviews from Alexei Sayle.
In her first stand-up special for the station, Waves, Brister recounts how, as the non-biological mother of loud, titled young twins, she was trapped in a maelstrom of extreme parenting during lockdown, her explosive tongue and sharp mind inhibited by the chopping of vegetables and the hum of the washing machine.
Her refuge from this domestic pressure cooker has been swimming in the sea. Although instinctively resistant to concepts like mindfulness and living in the moment, Brister mentally freed herself in the invariably freezing waters of the English Channel.
"Swimming has become my constant," she says. "Well, that and drinking. But, anyway, let's get back to swimming."
Recording at Ironworks studio in Brister's hometown of Brighton on May 23 (tickets), the show promises to be "a comedic journey of self-discovery, but also a surprisingly deep examination of the relationship between the body and the mind".
Also a reflection on parenthood and produced by Impatient Productions, the company run by Mark Watson and Lianne Coop, Josie Long: What Now? is an adaptation of the comedian's 2019 show, Tender.
As the dust hopefully settles on Covid Britain, graffiti across the country simply reads 'WHAT NEXT?', a question Long echoes as she lays out an inspirational comedic roadmap for a post-pandemic society.
"Life is so hard! And it's so long! And that's if you're lucky!" she declares.
Recording at The Stand comedy club in Long's hometown of Glasgow on May 22 (Tickets), she aims to offer hopeful and inspiring guidelines as to where we should begin.
Meanwhile, Kiri Pritchard-McLean hosts the pilot of the talk show Best Medicine, celebrating the inspiring history of science, exploring little-known facts and pioneering historical figures in the field.
Defending an invention, a technique, a pill, a potion or a person, the panel of medical experts and comedians will each advocate for what they think is the "best medicine".
For example, did you know that there is a pill made of cameras that you can swallow to detect cancer? Or that you can 3D print artificial ovaries, blood vessels, even pancreas? Or that the very first successful dental transplant took place on the head of a rooster?
Best Medicine is produced by Ben Worsfield and will record at Rudolf Steiner House in London on May 30 (Tickets).
Radio 4 also gave a full series to Strangers on a Train by Alexei Saylein which the veteran comedian randomly interviews audience members he meets while traveling between cities.
A Birmingham to Edinburgh pilot aired in February. Sayle told listeners to his podcast that "Radio 4 liked it so much they ordered a series, there will be seven and it will come out after The Archers Sunday night," adding that it will likely air in June.
"While I'm on the train, I just talk to people on the train," he explained. "I tell things that have happened to me in the different towns we pass through, the Manchester to Bournemouth episode is pretty heavy on that and I think it's really interesting radio.
"It's slow radio in a way, I just let people talk about where they're going and you get some compelling stories. If it works, it's going to make for really interesting radio…the show never goes downhill train, it is fully recorded on the journey.
"But also, it's not planned at all, I don't plan what I'm going to ask, when I talk about anecdotes that happened to me, I didn't write them down or anything, they are very spontaneous and it gives them a different quality I think… if you want to meet me, get on a random train, I could be on it!"
He also revealed that the fourth series of his stand-up show Alexei Sayle's Imaginary Sandwich Bar is set to be taped over three nights in London at the end of September, after testing the material at the capital's Museum Of Comedy later this month. "probably to air at the end of this year".
The BBC has always been "very supportive", he observed, before wondering if Jeremy Corbyn's upcoming material from the series will challenge that.