Pt England and Onehunga developments under construction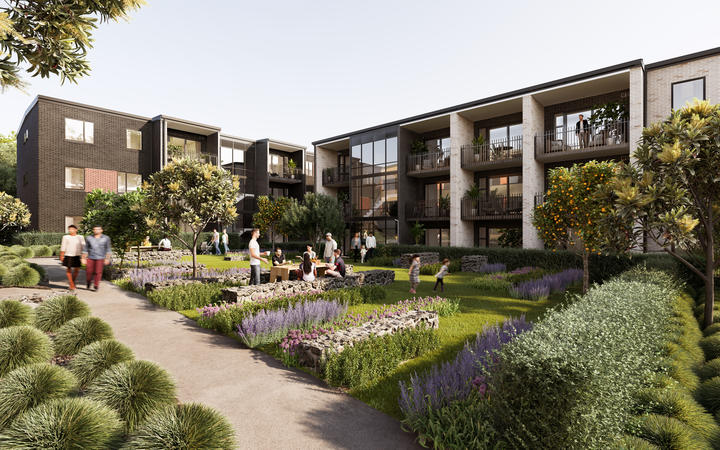 A KiwiSaver provider is branching out into Building Rental Properties (BTRs) with the goal of bringing more affordable housing options to market.
Simplicity has partnered with construction company NZ Living to form Simplicity Living, which will begin construction of 159 homes at two sites in Pt England and Onehunga next week.
Nonprofit provider KiwiSaver had budgeted $ 100 million for the project and expected it to be completed within 18 months.
Simplicity chief executive Sam Stubbs said long-term leasing was a common option in Europe and North America, which was often funded by pension funds.
BTR properties are homes specifically designed for long-term tenants, rather than for sale, and owned by large institutional investors.
"This provides another housing option for New Zealanders, so previously people who wanted to rent were usually stuck in short-term rental contracts," Stubbs said.
"What we want to do is rent for a very long time, if people wanted to, they could rent for the rest of their lives."
It was common for pension funds to invest in long-term BTR homes because they had stable returns, he said.
"It's another asset class that diversifies our investments, it offers a higher return than what we would get in the bank."
Simplicity Living would aim for a 3% return on properties, while renting them out at affordable rates, Stubbs said.
The intention was to eventually have billions of dollars in this asset class, he said.
To build the houses, he said it was offered to the construction company NZ Living, which is currently Kāinga Ora's largest supplier.
The company would effectively transfer its intellectual property to Simplicity, rebrand itself as Simplicity Living, and run the business on a voluntary basis.
"With their ability to build on a large scale and our KiwiSaver money, we can provide affordable housing to many more Kiwis," Stubbs said.
NZ Living co-owner Shane Brealy will be the Managing Director of Simplicity Living.
He said NZ Living to Simplicity's donation was a way to give back after a long career in the construction industry.
"Designing and building a portfolio of buildable homes that can offer secure tenure, comfortable, dry and warm homes in the right location and more affordable rentals and design them for 100 years with a homestar rating – that's something that will last forever. "
He said the houses would be a combination of three-story elevator-free apartments, denser apartment complexes and townhouses for large families.
They would be leased at 10 to 15% below the market rate, with the first offers open to Simplicity members, he said.
Over the past year, the construction industry has struggled with skills shortages and supply chain disruptions that have driven up construction costs.
Brealy was confident that supply bottlenecks would soon disappear and said his company was not facing problems with a shortage of manufacturers.
"We have a different way of working, we are self-performing, we are not exposed to the variations of a bidding market," said Brealy.
"Our team of 10 managers at NZ Living currently deliver 270 homes per year," he said.
"With Simplicity's funding resources behind us, we plan to go to 500, then 750, then ideally 1,000 homes per year.
"The land is probably the biggest obstacle in moving us at the rate at which we want to move forward.
"Every morning I wake up and pray that today is the day the real estate market is going to undergo a correction because it is very hot out there right now and it is very difficult to buy land in the right places. at the right prices. "