NEFB F&R Business Report | Unpublished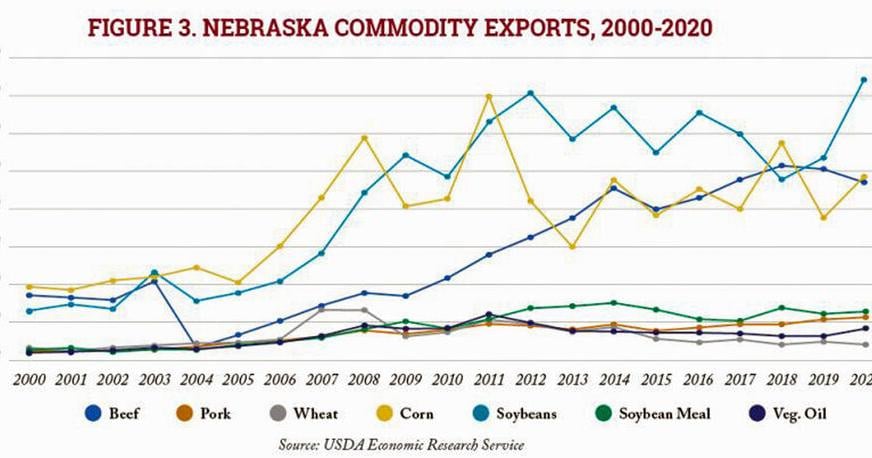 The 2020 report shows the value of Nebraska's agricultural exports at $7.1 billion in 2020. Nebraska remained the fifth-largest agricultural exporting state in 2020, with Nebraska leading the nation in beef exports, while being the second largest exporter of hides and skins. , the third-largest exporter of corn, animal feed and processed grain products, and the fifth-largest exporter of soybeans, soybean meal and vegetable oil.
The report tabulated the unit value of agricultural trade for soybeans at $8.47 per bushel, $1.02 per bushel for corn and $3.60 per bushel for wheat. The report forecast the unit value of trade at $188.31 per head for beef, down from 2019, and $83.31 per head for pork.
According to the report, there was little change between 2019 and 2020 in top export commodities for Nebraska counties. Soybeans were again the top export product for more than half of Nebraska counties, 49 counties in total, seven more than in 2019. Corn slipped as the top export product for 11 counties l year to 10 counties this year. Just two years ago, corn was the main export product in 31 counties. The number of counties with beef as their top export product, 30 counties, also decreased in 2020 from 34 counties in 2019. Wheat was the top export county in four counties.
Platte County still retains the top spot in agricultural export value in 2020. Custer, Cuming, Antelope and Boone counties round out the top five export counties in 2020. Platte County recorded an estimated value of $191 million from agriculture traded in 2020. Phelps County again ranked as the most trade dependent per farm, with an export value per farm of $343,000.