Mysteries Roundup: Three New Suspenseful Stories Will Keep Readers Guessing | Books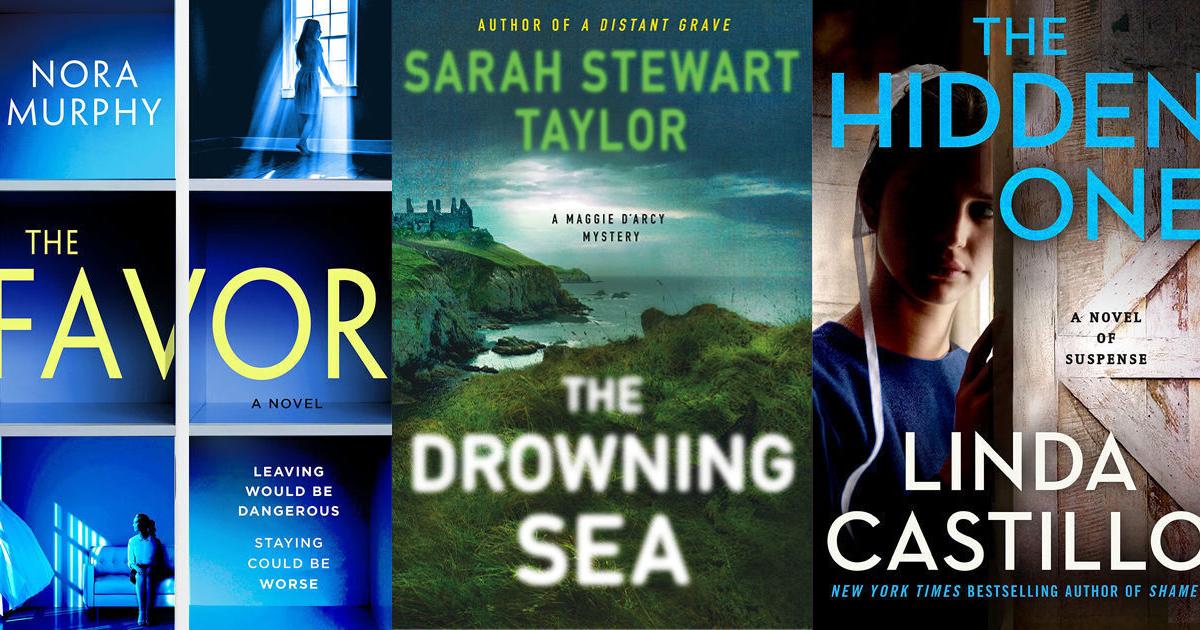 By JAY STRAFFORD for The Free Lance-Star

Meet the Dawsons and the Hawkins, the protagonists of Nora Murphy's first novel, "The favor" (Minotaur, $27.99, 288 pages).
Leah and Liam Dawson practice law, she's content with the background, he shines in the courtrooms as a litigator. McKenna and Zack Hawkins practice medicine, she as a pediatrician, he as a psychiatrist.
But the deepest commonality unites Liam and Zack, who both desire wives in the Stepford tradition, and who are both abusive control freaks.
In what follows, Murphy, a lawyer who lives in Maryland, spins a thread that keeps the reader engrossed — and guessing — as she gradually builds anxiety levels as the pitfalls Leah and McKenna find themselves in unravel. tighten to the point of psychological strangulation.
Love can spring from base motives, as it does in "The Drowning Sea" (Minotaur, $27.99, 352 pages), the third entry in Sarah Stewart Taylor's series featuring Maggie D'arcy, a former Long Island Police detective in New York.
Maggie and her daughter Lilly Lombardi spend two months in Ireland with Maggie's boyfriend, history teacher Conor Kearney, and her son, Aiden, as Maggie considers moving with Lilly to Ireland.
But attention shifts from life decisions to death investigations when the body of Polish laborer Lukas Adamik washes up at the base of dangerous cliffs; Suicide or accident is suspected. When another corpse surfaces, fear grows and ownership fuels greed.
A project to transform a deteriorated mansion into a luxury hotel has drawn support and bitterness from the community. And the Irish coast offers a myriad of places where drugs can be unloaded.
Deeply atmospheric, "The Drowning Sea" focuses on complex family relationships and long-held secrets, draws inspiration from Irish history and culture, and culminates in a terrifying cliffhanger.
The friends of our youth remain psychic talismans in our lives, no matter the distance in time or geography.
That's why Kate Burkholder – formerly Amish and currently police chief of the fictional Painters Mill in Holmes County, Ohio – ends up in the Kishacoquillas Valley of central Pennsylvania. "He Who Is Hidden" (Minotaur, $27.99, 320 pages), the 14th installment in Linda Castillo's series.
In 2004, authoritarian Amish Bishop Ananias Stoltzfus, an 86-year-old widower with two adult children, disappeared from the Valley.
No traces were found until the present day, when an Amish farmer cutting hay discovered bones later identified as those of Stoltzfus. Jonas Bowman, Amish father and carpenter from Painters Mill, is arrested.
Jonas and Kate were friends as teenagers, and she agrees when three former Amish people from Pennsylvania ask her to go there to see if she can help Jonas – despite having not seen him in two decades. She discovers that he had a history of unfortunate interactions with the Bishop and that his muzzleloader was found buried with the skeletal remains.
As she investigates, Kate becomes convinced someone is trying to frame Jonas, learns disturbing information about Stoltzfus' late wife, and is assaulted by a man who warns her to get out of town.
In "The Hidden One," Castillo addresses the pull of the past, the tension of the present, and the gift of the future.
Jay Strafford, retired editor and writer of the Richmond Times-Dispatch, now lives in Florida.