Michelle Yeoh dazzles in a Bonkers multiverse adventure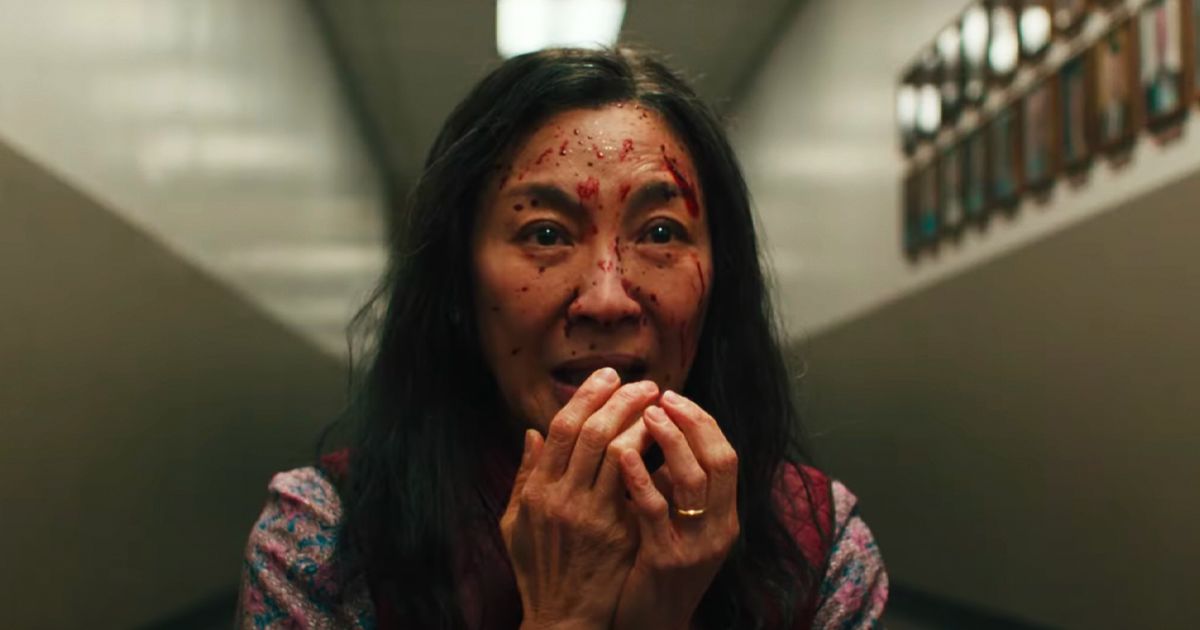 A beleaguered wife, mother, and business owner finds herself at the center of an epic showdown that will dictate the fate of the multiverse. Everything everywhere all at once is an amazing film that showcases the magnificent talents of the venerable Michelle Yeoh. The frenetic sci-fi action comedy will have you laughing out loud while possibly shedding a few tears. It takes the human journey and blends it into a fun cocktail of creativity. Everything everywhere all at once living up to its extraordinary title.
Evelyn Wang (Yeoh) whips up years of tax receipts while hastily cooking lunch for her demanding father, Gong Gong (James Hong), and lesbian daughter, Joy (Stephanie Hsu). She surprisingly brought along her girlfriend, Becky (Tallie Medel). Evelyn, exhausted, ignores the requests of Waymond (Ke Huy Quan), her passionate and always optimistic husband. He wants to say something important. But all he cares about is their encounter with a fierce IRS auditor (Jamie Lee Curtis). Their struggling laundromat is about to be taken over.
Evelyn, Waymond and Gong Gong's trip to the IRS takes a truly unexpected turn. Waymond's face suddenly changes. He slaps two Bluetooth headsets on Evelyn; which triggers an out of body experience. Evelyn sees another version of herself. Waymond explains that he is now her husband from another universe. A powerful being, Jobu Tupaki, endangers the entire multiverse. Alpha Universe Waymond thinks this incarnation of Evelyn can stop Jobu. She must learn to tap into the experiences of her infinite other self. Then she will have mastered the skills needed to fight Jobu.
Evelyn's negative attitude affects her family
Everything everywhere all at once allows Evelyn to explore what might have been. She considers herself a complete failure. A woman who didn't realize any of her dreams and was content with a pathetic life. Evelyn doesn't realize the profound effect her negative attitude has had on her family. Waymond and Joy also feel the weight of her misfortune. Their alternate doubles offer a glimpse of life without her. This manifests in a terrifying postulation that spawned the nihilist JobuTupaki. If nothing we do matters in the end, what's the point of trying anything? Evelyn must overcome her low self-esteem and perceived inadequacies to answer this question.
Everything everywhere all at once works with the multiverse concept at absolute glory. Evelyn initiates a jump by doing something extreme. This allows him to draw specific abilities depending on the situation. From martial arts expertise to hibachi cooking, Evelyn's alternate reality adventures are hilarious and the highlight of the film. A universe where humanity develops different physical characteristics is a jaw-dropping star that always makes me smile.
Related: The Outfit Review: Mark Rylance Sews A Fascinating Gangster Movie
Outstanding Filmmaking
Filmmakers Dan Kwan and Daniel Scheinert, aka The Daniels, are outstanding in their second feature. The directors of Swiss Army Man bring their unique vision and style to the imaginative stratosphere. Everything everywhere all at once has characters that are constantly on the move. Evelyn goes from frumpy laundromat owner to glamorous movie star in an instant. The film moves quickly from one universe to another in flash montages. Each having their own elaborate costumes and sets. Kwan and Scheinert run the full cinematic gamut from animation to a brilliantly crafted stage with literally just rocks. The film never stagnates. It ripples with energy; but intelligently slows down at key points to maximize emotional impacts.
Michelle Yeoh has been a key figure in Hollywood and Asian cinema for decades. Everything everywhere all at once is the perfect vehicle for his incredible repertoire. She can hit an IRS office full of bad guys, sing opera, then hug her dear family in a tender, dramatic moment. Yeoh's excellent comedy timing takes center stage. She and her co-star Ke Huy Quan, star of 80s classics The Goonies and Indiana Jones and the Temple of Doom, deliver performances of bravery. They make a great on-screen couple.
Everything everywhere all at once pierced me. That said, it can overwhelm some audiences. The duration of two hours and twenty minutes is a sensory deluge. The frenetic editing, periodic strobe lighting, and weird footage can be unnerving. Get ready for a mad dash.
Everything everywhere all at once is produced by AGBO, Ley Line Entertainment, IAC Films and Year Of The Rat. It will be released in theaters on March 25 on A24.
Pauly Shore Talks Pinocchio: A True Story and My Sweet Monster
Read more
About the Author