King Cab "extraordinary" in return for dismissal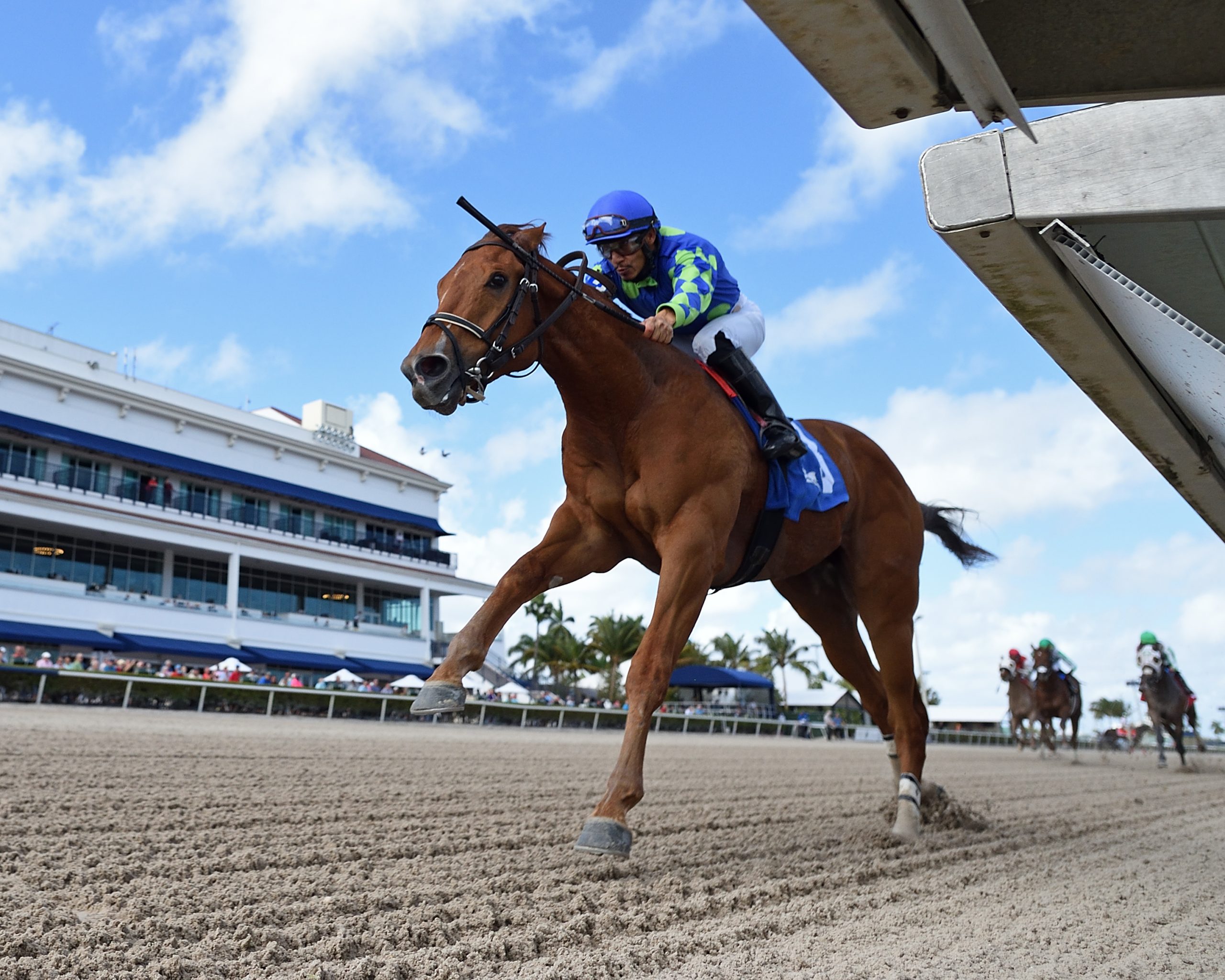 Pass the Champagne makes a splash in return Win
Rainbow 6 Gross Jackpot Pool guaranteed at $150,000

HALLANDALE BEACH, Florida – King Cab made an eye-catching comeback after a five-month layoff Thursday at Gulfstream Park, scoring a 7¼-length triumph in a seven-furlong allowance race for the Florida-bred 3-year-olds in Race 3.
"I thought for a long time that this horse could be something extraordinary," said trainer Eddie Plesa Jr. "I think this horse can have a future."
The neutered son of Noble Bird went straight to the front under Paco Lopez and stormed away to a convincing win in a quick 1:21.79, setting splits of 22.29 and 44.76 seconds for half a mile and 1:08.83 for six furlongs.
"It was as tough a Florida allowance as you'll find, that's the first thing," Plesa said. "The second thing is the seven-eighths of a mile. I've always thought for beginners and horses coming off a standstill, seven-eighths of a mile is the hardest distance.
King Cab, owned by David Melin, Leon Ellman and Plesa's wife Laurie, was an excellent first winner on August 6, overcoming a flat start to win by three lengths. He finished deep in the Florida Sire Stakes Affirmed after another slow start and was sent to the sidelines.
"He kind of took a funny step in the middle of the corner and he broke badly that day," said Plesa, a Grade 1 winning multiple trainer with more than 2,400 wins. "He came back and was a bit behind. He didn't need surgery. We just gave him some time off. He came back and his works were amazing.
King Cab became the 3-2 favorite in a field of six 3-year-olds.
Pass the Champagne makes a splash in return Win
Making its first start since its troubled 12th-place finish in the Kentucky Oaks (G1) on April 30, Pass the Champagne earned an impressive 2 ¾ length victory in Thursday's Race 9 at Gulfstream Park.
Flatter, the 4-year-old daughter of RA Hill and Black Type Thoroughbreds, followed a fast early pace set by Mona Stella and pressed by Psychic Ability before taking the lead leaving the corner on the home stretch and shooting under Luis Saez . The Kentucky-bred filly clocked seven furlongs in 1:23.71 while beating seven horses in the optional entry-level claim allowance.
"It was a long layoff and I thought she might be a little tired at the end, but they went 44 (seconds) and changed and she was up there with them to go home," said coach George Weaver.
Pass the Champagne ($3.20), who finished second in his debut for trainer Rusty Arnold at Gulfstream in January 2021, broke his maiden a month later at Gulfstream after transferring to Weaver. She then finished second, beaten by a header by Malathaat, in the Ashland (G1) at Keeneland on her next start.
"She trains like a really good filly in the morning, and hopefully that's a step towards bigger things," Weaver said. "We are satisfied with his performance today. You never know how they react when they come out of that layoff, and it looks like she came running back.
Rainbow 6 Gross Jackpot Pool guaranteed at $150,000
The 20-cent Rainbow 6 gross jackpot will be guaranteed at $150,000 during Friday's schedule at Gulfstream Park, where the popular multiple-race bet was not resolved in the three race days following a mandatory payout on the day of the Pegasus World Cup.
The Rainbow 6 streak will span Races 5 through 10, including a well-stocked optional claim allowance in Race 9. Trainer Todd Pletcher trained early winners American Icon, a son of Gun Runner who scored by 8 ½ lengths at Gulfstream on December 26. and Iron Works, a son of Distorted Humor who won by four lengths on Jan. 8 at Gulfstream, are set for much-anticipated returns to the 3-year-old mile race.
In Race 6, a special seven furlong first weight race for kids 4 and up, Pigott, trained by Pletcher, a $1.2 million one-year buy, is set to make his long-awaited debut.
The Rainbow 6 jackpot is paid out when there is only one unique ticket sold with all six winners. On days when there is no single ticket, 70% of that day's pool goes to bettors who hold the tickets with the most winners, while 30% goes to the jackpot pool.
Who shot: Luca Panici notched a one-two finish on Thursday, winning aboard Mighty Tough ($6.80) in Race 1 and Senorita Salsa ($19.80) in Race 4… Junior Alvarado took back-to-back victories aboard from Earth ($20.80) in Race 5 and from Giverny ($3.60) in Race 6.
Gulfstream Park Press Release
King Cab (photo by Ryan Thompson)