Grace for the Day: No Peace or Knowing Peace | Lifestyles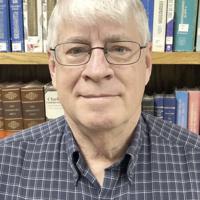 You can imagine how much suffering I encounter every day. I am a therapist so the suffering goes with the work.
Sometimes the sheer weight of the burdens that people carry overwhelms me. I sometimes wonder how people can even function with all that they're going through, but people can be very resilient when asked to.
It is difficult to compare the amount of suffering in today's world to previous generations.
Do people suffer more in modern times or are there just better and faster reports? Was the Depression worse? And during the reign of Nazi Germany? Is the extent of our suffering a product of greater opportunities and higher expectations as Americans?
The true measure of your or my suffering is not in comparison to someone else's but in consideration of our individual capacity to suffer. If my suffering is at 95% capacity, it doesn't matter that someone else with the same stressors is only at 65% capacity, mine is still at an extremely dangerous level for me. You are the only frame of reference for your ability to manage the challenges you face.
When we are faced with problems, our usual response is fight, flight, or denial. A combat response brings aggression or passive aggression. We either become angry and castigate, or surly and internalize our anger.
Faced with frustrations before which we feel powerless, we resort to a combat mode that never leaves. We are always on our toes or alert and can never relax. It's like trying to sleep in the middle of a war. You can sleep, but you will never feel rested. The flight response invites us to run and get away from our stressors.
One may be able to flee from a predator, but it is extremely difficult to escape from a spouse or the IRS. In such cases, we use fancy takeoffs to try to maintain control.
Escape fantasies occupy the lives of so many Americans who find no other way to release stress. Vacations, midlife crises, and adventures are attempts to find the nirvana we promise ourselves as just compensation for our misery. These are illusions from which we eventually wake up, with added misery from foolish choices and burnt bridges.
When you realize that fight and flight are not viable solutions to your stress, the last option is denial. Put on your brave face, stiffen your upper lip and pretend to be happy! Tell yourself and everyone else that life is good. Create a persona that you showcase on social media, while not letting everyone see that facade you showcase.
Like the impossible combat response, you can never relax because the stressors are always in your subconscious, held at bay by a continuous drain of psychic energy. It's no wonder our culture produces so many ways to lash out and fight back. We hear about them daily in the news.
Since none of these answers work, we cannot face our crises face to face without futility, because when our solutions to our problems fail, our solutions become problems, only adding to the pile. There is a solution. God not only hears our calls of despair, but He also moves through our world. Peace is not the absence of difficulties; it is the presence of God.
Jesus slept in a boat in the middle of a storm in which the waves were crashing against the hull. He slept peacefully because he constantly lived with the assurance that his Father was in control (even the winds and the waves).
Equally important was his assurance that whatever his Father would provide would be perfect because his Father's love is perfect and his power is perfect. Jesus did not care how God answered his prayers, only that God answered his prayers.
However, God's choice to weather the storm agreed with Jesus. We tend to seek peace on the assumption that God will answer our prayers according to our desires. It is these desires that create our anxiety. Jesus could have drowned that day, and it would have been all right if it was God's will.
Stephen Parker has over 25 years of experience as a minister and as a marriage and family therapist. Contact Parker at [email protected]