Eleven's Rebellious Moments Throughout Seasons 1-4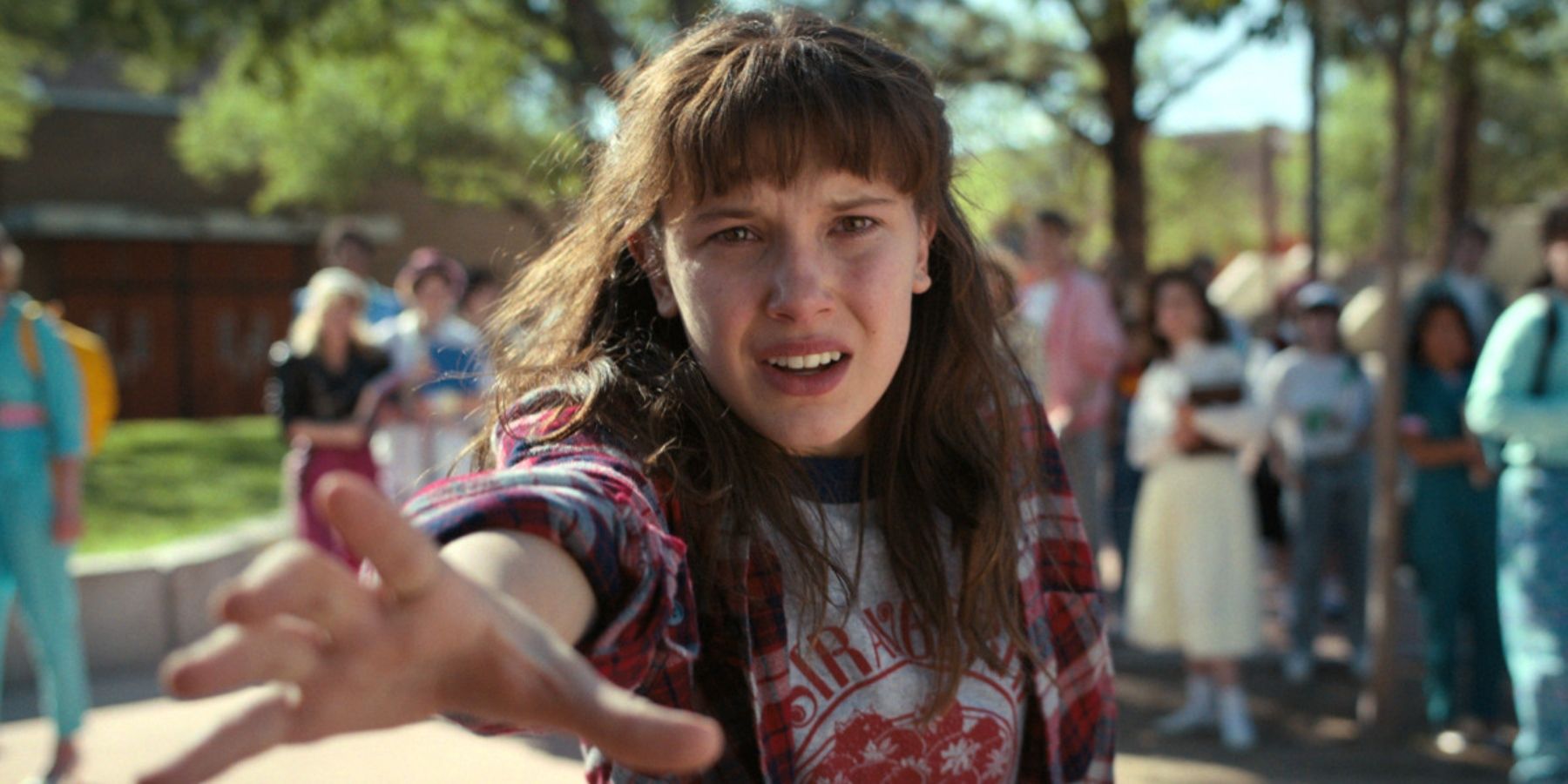 Whereas stranger things certainly has a lot of tricks up its sleeves, there's one thing viewers have been coming to expect since the first season, and that's a rebellious Eleven moment. Like all teenagers, the super-powered girl finds herself dealing with a myriad of feelings throughout the seasons. She feels alienated from her peers, unloved by her boyfriend, and deals with the general confusion that comes with being raised in a lab and then released into a community of well-meaning, friendly people.
An ugly light shone on Eleven in the top half of season four as she struggled with being separated from her friends – Mike, Max, Lucas and Dustin – and the death of her father figure, Jim Hopper. On top of that, she didn't fit in at her new school and was often the victim of mean-spirited comments and other bullying. This all led to a brutal Rink-O-Mania altercation where she came face to face with the school's main bad girl, Angela. Here's a breakdown of all of Eleven's rebellious moments across the stranger things series, so far.
RELATED: Stranger Things Season 4 Episode Run Times Have Drawn A Lot Of Criticism, But Here's Why They Work
This is perhaps one of the most recreated scenes in the series. In season one, after separating from the misfit boy band, Eleven walks into the local grocery store, Bradley's Big Buy, and leaves with her arms full of Eggos. Prior to this moment, she had argued with Mike, Dustin, and Lucas (the latter being the most resistant to her). Lucas accuses Eleven of wasting time on their journey to find Will and ends up in a physical fight with Mike. To separate them, Eleven uses her superpowers to push Lucas away from the other boy, leaving him injured. Mike gets angry and Eleven finds herself alone.
To survive, Eleven bursts into the supermarket and escapes with arms laden with frozen waffles. She calls the store clerk who tries to stop her from "mouth breathing" and leaves the broken front doors in her wake. During this scene, she wears a light pink dress, as well as a denim jacket. Many fans use this look to channel Eleven at conventions and Halloween, complete with a box of Eggos.
In the second season, Eleven discovers that Hopper is watching her biological mother, Terry Ives. She goes to the woman and finds Terry in a catatonic state. During her visit, Eleven learns of another young girl with psychic abilities and runs off to find her. Eleven gets a "bitchin" punk makeover upon meeting Kali, also known as Eight, and ditches her simple look for slicked back hair and dark eye makeup.
The tone doesn't lighten up for the rest of the season, as Eleven discovers that Kali and her friends are seeking revenge on the Hawkins Lab scientists who respected Brenner. Eleven is pressured to kill the scientist who administered electroshock therapy to her mother, an act she does not follow through with.
The third season featured one of Eleven's funniest rebel scenes! The stakes were low, at least for fans who weren't Mileven shippers. On Madonna's '80s pop hit "Material Girl," Eleven and Max headed to Starcourt Mall for an epic makeover montage after Mike lied and canceled plans to date his girlfriend.
Max encourages Eleven to ignore Mike and distracts her by planning a girl's trip to the mall. Here they buy new outfits and get ice cream at Scoops Ahoy. At the end of the shopping spree, the duo meet Mike, Lucas, and Will. Eleven calls out Mike for lying to her and dumps him.
As mentioned above, things heated up in season four and saw Eleven assaulting her high school bully at the rink. Although Angela may have needed some reality, it had no positive effect for either girl as Angela ended up with a broken nose and Eleven was taken to a police car.
During the episode, Eleven, now residing in California, is reunited with her long distance boyfriend Mike. The two take a trip to Rink-O-Mania, with Will in tow. During their day together, Eleven repeated lies that she's popular and has tons of friends – a facade she built for herself through her written correspondence with Mike during their split. However, it comes back to bite her as Angela and her friends devise a plan to humiliate Eleven in front of Mike. Eleven confronts Angela, who refuses to apologize and mocks Eleven for her father's death (for the second time), resulting in Eleven grabbing a roller skate and punching Angela in the face.
Hopefully, among solving its biggest mysteries, the show's final (and final) season will continue that tradition and throw a few curve balls Eleven's way.
MORE: How the power of female characters in Stranger Things goes beyond fighting monsters