Britton Wilson wins NCAA 400m hurdles title, Razorbacks finish sixth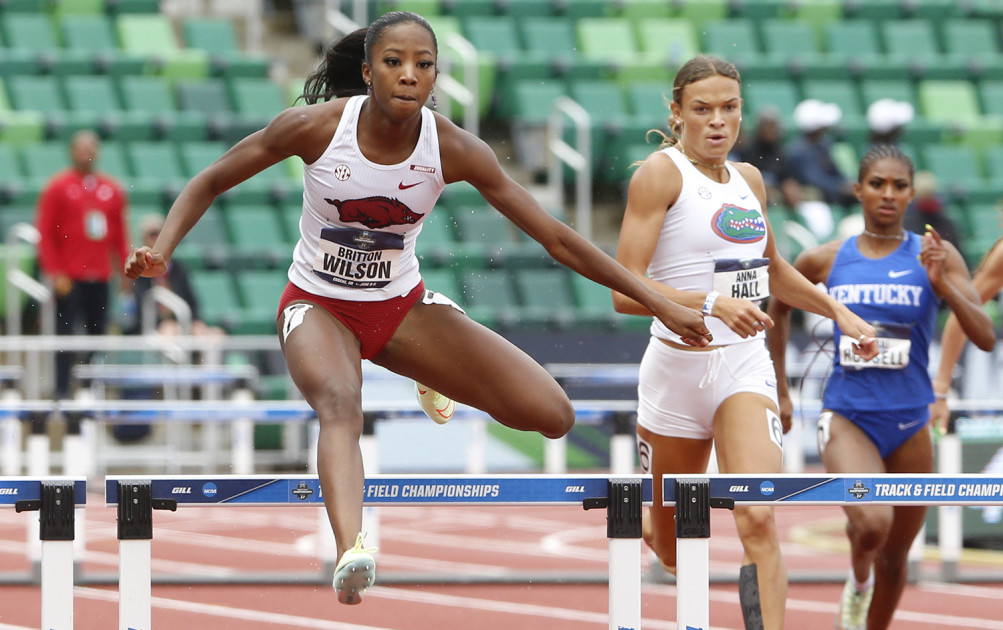 EUGENE, Oregon –Razorback Britton Wilson, the dominant in the collegiate 400m hurdles this season, completed his mission to win an NCAA title, winning the event in 53.86 seconds at Hayward Field on Saturday in adverse weather conditions.
Arkansas totaled 38 points in the competition, finishing sixth in the team standings.
The Razorbacks closed out the competition with a bronze medal in the 4×400 relay, clocking 3:23.69 with a foursome of Morgan Burks-Magee (52.3), Rosey Effiong (50.4), Jada Baylark (51.44) and Wilson (49.55).
Wilson became the first Razorback to win the women's 400m hurdles title. Another stellar run earned him a nearly full-second victory over Florida's Anna Hall (54.76), Duke's Lauren Hoffman (55.58) and Kentucky's Masai Russell (55.83).
The final day began with Krissy Gear producing another season best 4:10.06 to place fourth for five Razorback points. A time of 4:09.42 by Sintayehu Vissa of Ole Miss won the race with Colorado runner-up Micaela Degenero clocking 4:09.62.
Gear led the majority of the race with split times of 49.34 (300m), 1:59.15 (700m) and 3:07.36 (1,100m). With a rush to the finish line, Gear separated a pair of Stanford runners, Christina Aragon was third in 4:10.00 while Julia Heymach was fifth in 4 : 10.58.
Logan Jolly broke her own school record in the 3,000m steeplechase with a time of 9:34.76, bettering the 9:38.13 she ran in the semifinals. Ten of the top 11 of the 12 runners set a career record. Already in possession of automatic qualification for the USATF Championships, Jolly moved closer to the World Championship standard of 9:30.00.
BYUY's Courtney Wayment broke the collegiate record with a 9:16.00 win, beating the previous collegiate and meet record of 9:24.41 set by Courtney Frerichs of New Mexico in 2016.
Jolly dropped the back of the pack midway through the race and rallied in the closing stages to place seventh and grab a pair of points for the Razorbacks.
In the late 5000m rally, Lauren Gregory placed fifth in 13:28.33 while Isabel Van Camp earned a scorer spot to finish eighth in a career-best 15:35.64. which puts her at No. 3 on UA's all-time list. .
Effiong clocked 51.55 in the 400m to place seventh, earning a pair of Razorback points.